Yoga of Sex
From Bluetruth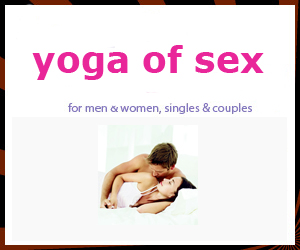 The Yoga of Sex: Sexological Bodywork Home Schooling
with Joseph Kramer PhD and Ariadne H. Luya DHS
Speak with Joseph Kramer, the founder of Sexological Bodywork about this Yoga of Sex Training in a free teleconference on February 22 at 6:30 pm PST. Please read carefully the training description and bring your questions about the Yoga of Sex. Get your call-in number and pin at http://tinyurl.com/yogaofsex3.
Enroll Now: $395 for one year
The Yoga of Sex course invites you to experience how humans learn sex. Profound embodied learning takes place when we repeat a practice mindfully over time. Erotic practice is fun, rewarding and transformational when we use this conscious, focused yoga model of education.
The new profession of Sexological Bodywork is based on exactly this type of learning. Certification as a professional Sexological Bodyworker is available through the Institute for Advanced Study of Human Sexuality in San Francisco and through the International Institute for Sexological Bodywork in Zürich.
The Yoga of Sex course offers the entire Sexological Bodywork Training in a home study format. Home schooling has never before been so much fun. Although this course was designed for professional somatic sex educators, anyone interested in learning Sexological Bodywork as an erotic yoga practice can enroll. Upon enrollment, you will have access for one year to all the materials from the California State-Approved Professional Certification course including video teachings, an online course workbook, readings, and somatic assignments.
You can enroll in this course at anytime. Everyone chooses his or her own level of participation or non-participation. This format offers the flexibility that most benefits students directing their own somatic learning.
This course, sponsored by The New School of Erotic Touch, does not provide professional certification. Many students do use The Yoga of Sex in their professional lives and to prepare for future certification as Sexological Bodyworkers.
Resources available for Yoga of Sex students:
- An online course workbook that will guide your sexual practice sessions and your video education. Here is a segment sample from the workbook. The professional Sexological Bodywork Certification Training uses this same workbook.
- Ten sex education DVDs, The Erotic Mind by Jack Morin, and Joseph Kramer's Introduction to Masturbation Coaching. ($185 value)
- A private online forum for communication among students and faculty, including an archive of all previous student postings.
- Periodic phone seminars with Joseph Kramer, Ariadne H. Luya and The New School of Erotic Touch faculty on topics such as peak somatic learning, erotic trance states, sensory-motor amnesia, coaching erotic embodiment, shame and pleasure, and Taoist Erotic Massage. Next group coaching session for enrolled students: January 25.
- One year of membership to The New School of Erotic Touch, which includes unlimited access to all current classes and an expanding library of video teachings. If you are now enrolled in The New School, we will extend your membership by a year or adjust your tuition.
- Each Yoga of Sex student will receive a $200 scholarship towards the Professional Sexological Bodywork in Australia, Switzerland or California. The $200 scholarship is available for one year from your enrollment in the Yoga of Sex.
This abundance of sex education resources is available to everyone who wishes to explore somatic sex education in both theory and practice. As an adult learner, you choose your own level of participation.
Upon enrolling, all students must introduce themselves to Joseph Kramer, Ph.D. by email. Let him know your personal and/or professional reasons for joining this course. Be sure to include any education and experience you have in the area of bodywork or sex education.
The Yoga of Sex Home Study Course invites you to go deeper into the adventure of finding what is truly erotically possible for you, your intimates, your students and your community.
Enroll Now: $395 for one year of learning
You need JavaScript enabled for viewing comments