Bondassage
From Bluetruth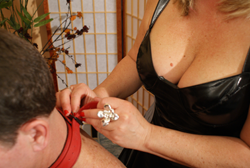 Bondassage is a relatively new brand for an ancient practice. Even Jacqueline Carey's sensational book series 'Kushiel's Dart' [Dart]explores the practice of dark erotic arts.
Bondassage is a fabulous way to experience 'a little bit of naughty with a little bit of nice'.
The qualified practitioners are taught how to invoke heightened states through the deprivation of some senses and the over stimulation of other senses.
Men and women are both benefiting from Bondassage. Bondassage is an opportunity to open yourself up to a whole new world of pleasure.
You can find Bondassage in Australia here:
You need JavaScript enabled for viewing comments